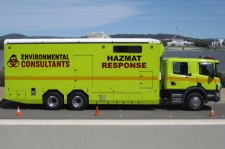 ORLANDO, Fla., March 31, 2020 (Newswire.com) - As COVID-19 takes a firm hold around the world, proper remediation and decontamination have become vital components to stopping the virus. Yet, too many businesses, communities and governments may be relying on decontamination-type services from organizations with little to no actual experience in dealing with such complex environmental emergencies. Experts from Environmental Consultants - one of the country's leading environmental assessment and consulting firms - warn that this may not only slow progress in remediating the virus, but actually impede it, and put businesses at risk.   
Environmental Consultants offer a wide array of environmental testing, compliance and remediation services from its team of certified industrial hygienists with over 200 years of combined experience. Robert Barton, Environmental Consultants' director of operations, said he is concerned when he sees janitorial companies without the appropriate and necessary specialized Personal Protective Equipment (PPE), certifications, and experience, being tasked with cleanups they're not trained or qualified to handle, as the improper handling of these tasks has the potential to create additional and significant risk and liabilities.
"Emerging health issues like COVID-19 require a meticulous approach to remediation and decontamination. Having an environmental consultant and OSHA safety director on-site is a wise move to ensure general CDC and Department of Health protocols are followed. It is my strong recommendation that all remediation technicians hold the proper certifications, including their Hazwoper certification," advised Barton. "Companies who do not hire properly trained professionals, as may be legally required, not only put their own businesses at risk of significant liability, but, in my opinion, they are being haphazard with the potential health risks they could be creating and exposing their employees and the public to."
One case in point: PPE - the clothing or equipment designed to protect workers from hazards on a worksite. OSHA requires workers to receive training on the proper and safe use, care, maintenance and disposal of PPE. Those unfamiliar and untrained with working in these suits and respirators can pass out, leave skin exposed, and incorrectly put on and take off the PPE, causing exposure to themselves, others they come into close proximity with, recontamination, and even cross-contamination throughout a building.  
"PPE cannot protect you if you don't know how to use it properly. PPE dress out is just one of the things we are generally seeing mishandled during this COVID-19 crisis. We urge organizations to enlist the support of environmental experts and safety directors to help prevent the worsening of this pandemic," he said. "We are dealing with a virus that has shown to be airborne, stay active on surfaces for days, and even remained on surfaces for up to 17 days after passengers disembarked from a particular cruise ship. Thus, it is our distinct belief that getting the job done right the first time is essential."
Environmental Consultants strives to find and work with tier-one providers in the realm of disaster and emergency preparation and response. Engaging in these strategic partnerships with other like-minded companies has also allowed Environmental Consultants to bring the best level of emergency-response assistance to many critical care facilities and commercial building owners in need of remediation and decontamination services.
"Not only is Environmental Consultants well-equipped to help provide effective solutions, but we also work with other entities that truly know their way around a pandemic response - with some having previously responded to the SARs, MERs, and H1N1 emergencies," he added. "When we work with strategic response partners, we not only help each other but the client benefits from the collective resources and experience. We ensure that our teams train for these situations, as well as our chosen strategic response partners' teams, to ensure we're ready to help clients return to normal as soon as possible."
For more information, go to environmentalconsultants.com. 
For media inquiries contact: Robert Barton at  robert@environmentalconsultants.com or (800) 554-9065
Environmental Consultants offers a wide portfolio of solutions to help organizations manage risks, respond to threats of, and recover from, disasters. Whether a problem is occurring now or has the potential to in the future, Environmental Consultants' environmental, health, and data science solutions help clients achieve better outcomes. Its programs have been real-world proven to help protect people and environments while mitigating risk in hundreds of challenging client projects. Environmental Consultants is focused on continually innovating customized programs for customers in the chemical, petroleum, manufacturing, mining, transportation, government, legal, power and utilities, as well as various other industries. Environmental Consultants' services span emergency response, occupational health, and industrial hygiene programs as well as litigation support, project management and customized data solutions.
Source: Environmental Consultants
Share: