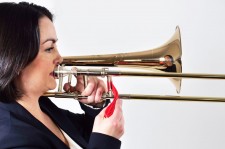 TENAFLY, N.J., March 24, 2020 (Newswire.com) - Trombones are in a class by themselves. They are the only instrument in the brass family to use a slide to alter pitches, rather than valves. And while that very feature provides its signature sound, it is also the thing that prevents many would-be trombonists from pursuing their passion. That is where Nicole Abissi steps in. The mom, professional musician and college music teacher turned entrepreneur has come up with a device called Extendabone that promises to make the instrument she loves more accessible to all.
​Abissi has invented a slide extension handle that clips onto the trombone handslide to allow even the youngest children, as well as shorter individuals like herself or those without full arm mobility, to play the full range of the instrument. According to statistics, as many as half of beginning trombonists are not able to utilize all seven positions of the slide simply due to their arm length. Some teachers even discourage younger or smaller students from taking up the instrument for that very reason. That was simply not okay with Abissi.
"I know from my own personal experience that not being able to reach sixth and seventh position can limit your ability to play in tune or play some pieces at all. My parents were able to buy me an instrument with a valve when I was young. This allowed me to play those notes. But it was very expensive, and many cannot afford this option," said Abissi. "When I was in college, there was an extension handle on the market - but that is no longer available. I believe that the challenge of reaching the far positions explains why fewer girls and women play the trombone. We tend to be smaller in general, and if the instrument proves to be more frustrating than fun, these students will quit. That is not acceptable to me. I had to do something about it."
And Abissi is a uniquely qualified authority when it comes to the form and function of the apparatus she created. She performs on Broadway and with professional orchestras around the world. She received her bachelor's degree in music from the Juilliard School and her master of music degree from Stony Brook University. ​Abissi is also a trombone instructor at Montclair State University in New Jersey and has led clinics at many universities and music festivals. Yet, most of all, she is a mom who wants to pass her craft on to her own children and others around the world.
"Being a musician adds great joy to my life. I want to encourage children to consider playing an instrument. And let's face it, if you cannot play an instrument to its full potential, it's not as fun and you are more apt to give up. I think for parents and band directors alike, Extendabone is a welcome and long-awaited product," she added.
Praise for Extendabone has come from a variety of notables in the music industry, including Joseph Alessi, principal trombonist, in the New York Philharmonic who lauded the invention's potential. 
"No longer do trombonists have to feel stressed when playing sixth and seventh positions or written glissandi. Extendabone will be excellent for younger players and trombonists at all levels," he said.
Sustainability was also a significant consideration for Abissi. As a result, not only is the product made from recycled plastic, the packaging, labeling and ink are all from natural, recyclable and compostable materials.
​Extendabone is available for pre-sale for $9.99. It comes in three colors and is manufactured and packaged in the U.S. To pre-order or to find out more, go to extendabone.com.
For media inquiries, contact: Nicole Abissi info@extendabone.com 847-924-6630
Source: Extendabone
Share: